Track Your App Screen Time In Realtime
See how much time you spend on social media, shopping and streaming apps, addicting games etc. Available on iPhone and iPad. Take control of your app usage and develop healthier digital habits.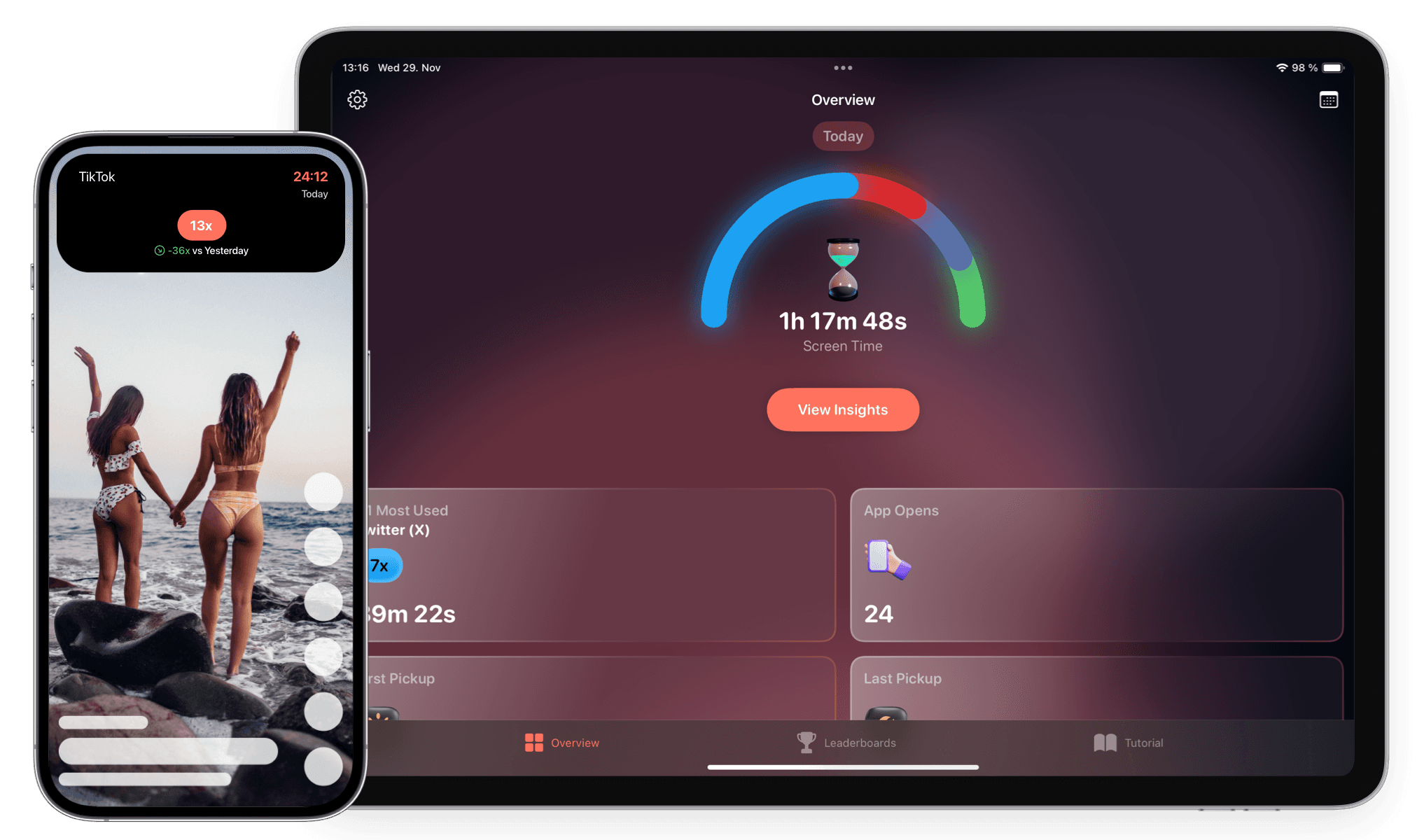 What's Realtime Screen Time
Realtime Screen Time uses Shortcuts Automation to toggle a stopwatch whenever you open one of your configured apps (TikTok, Twitter, Facebook, Instagram...) or any games (Clash of Clans, Marvel Snap, Genshin Impact).
Plus, you can check the daily and all-time usage for all tracked apps.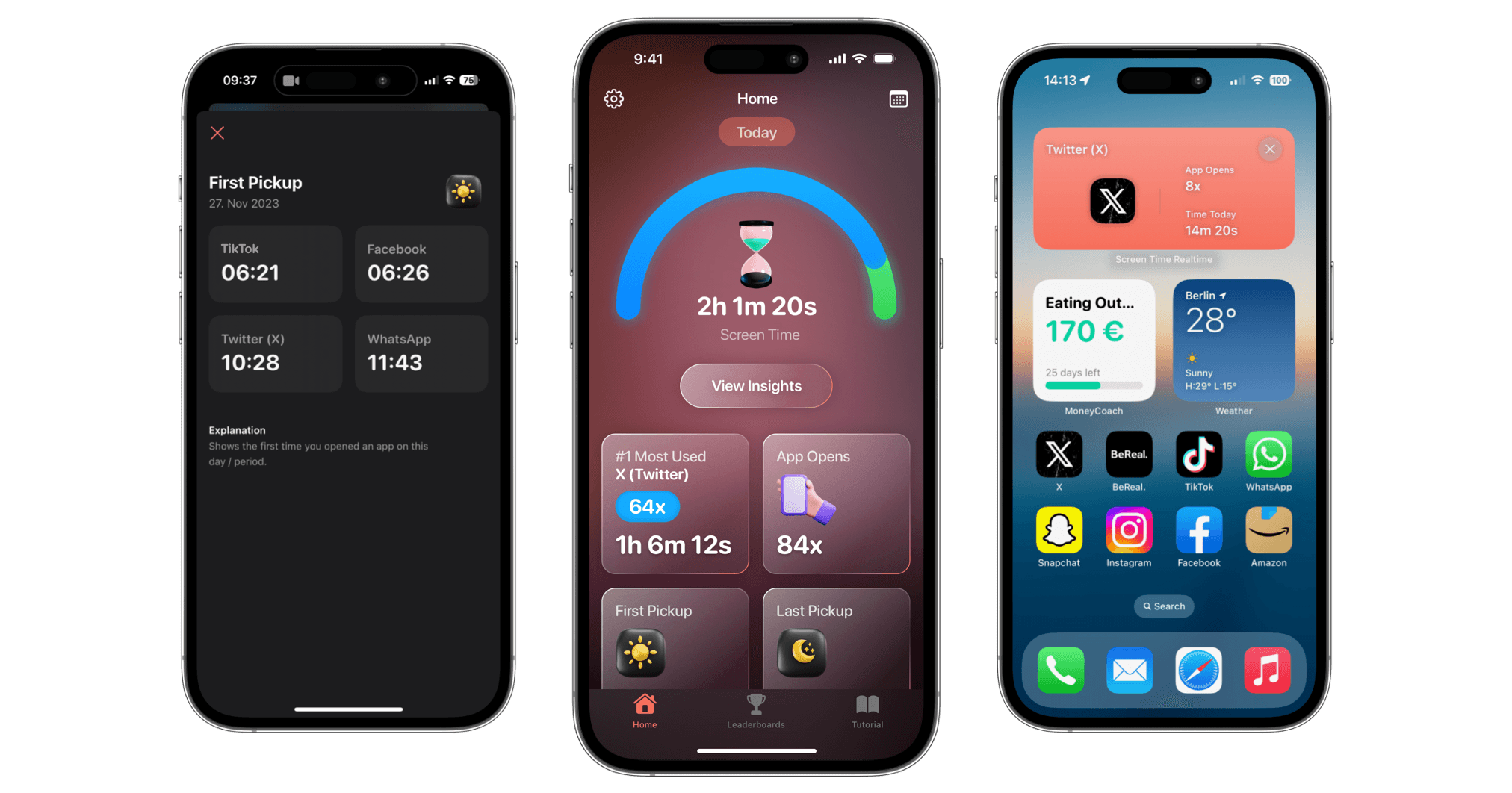 Who Is This For?
Realtime Screen Time sole purpose is to help you see how much time you waste doomscrolling through social media apps, binging on useless content and tiring your eyes on boring games.
Social Media Addiction

Be more mindful about how much time you actually spend doomscrolling on TikTok, X, Instagram, Facebook, Snapchat etc.

Streaming Apps Addiction

Check in real time how much time you have spent watching that show nobody likes, but you are two episodes in and you have to just finish it.

Gaming Addiction

See how much time you are wasting just waiting for that energy bar to fill so that you can do one simple action in one of those boring games.
Benefits
Global Leaderboards
With Leaderboards powered by Game Center, users can now compare their times against their friends, family or with the rest of the world.
Just remember that the one with the least amount of time spent on social media wins the #1 place.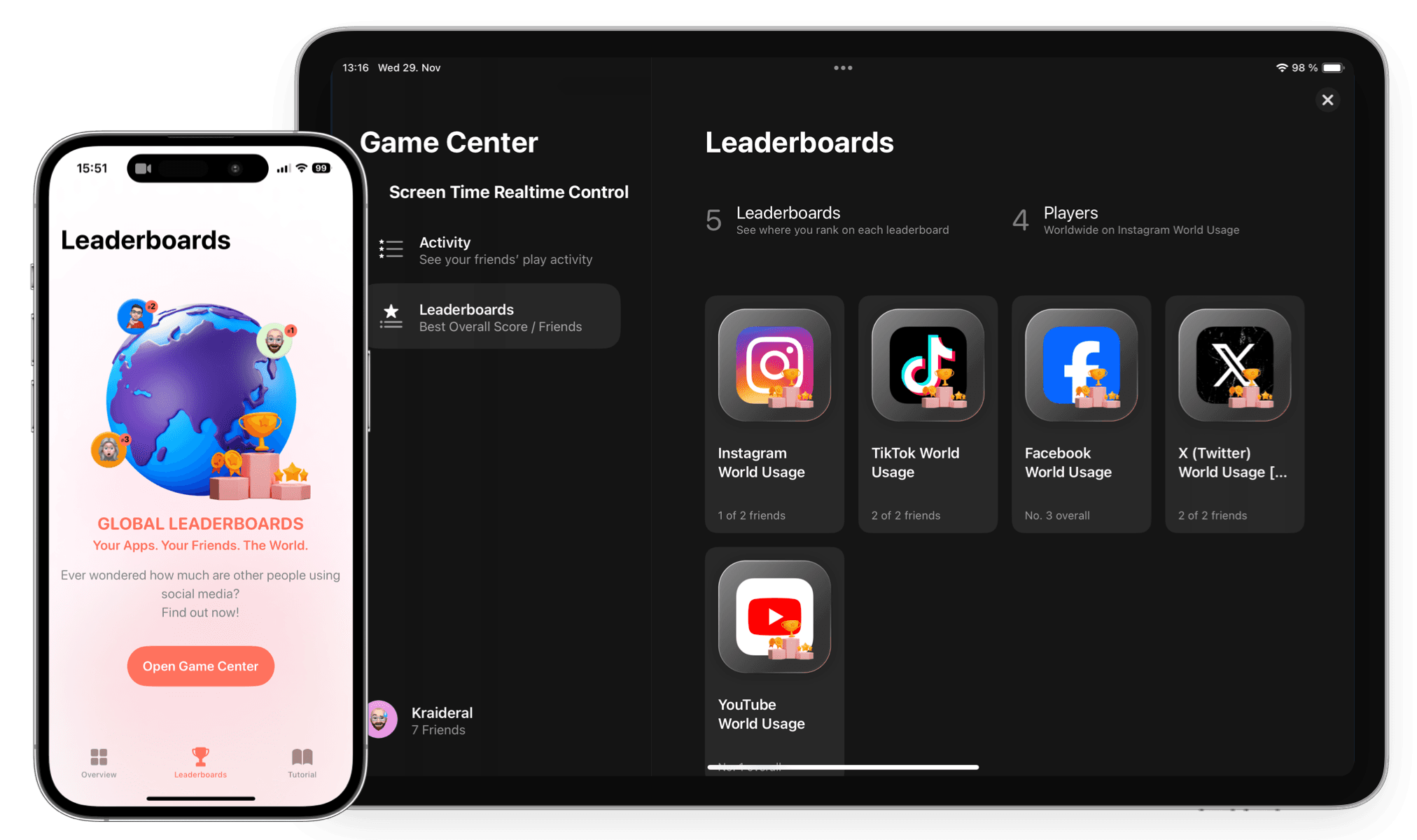 Enhanced Self-Awareness
By tracking your app usage, you gain a clearer understanding of how you spend your time on your device, leading to better self-awareness and more intentional behavior.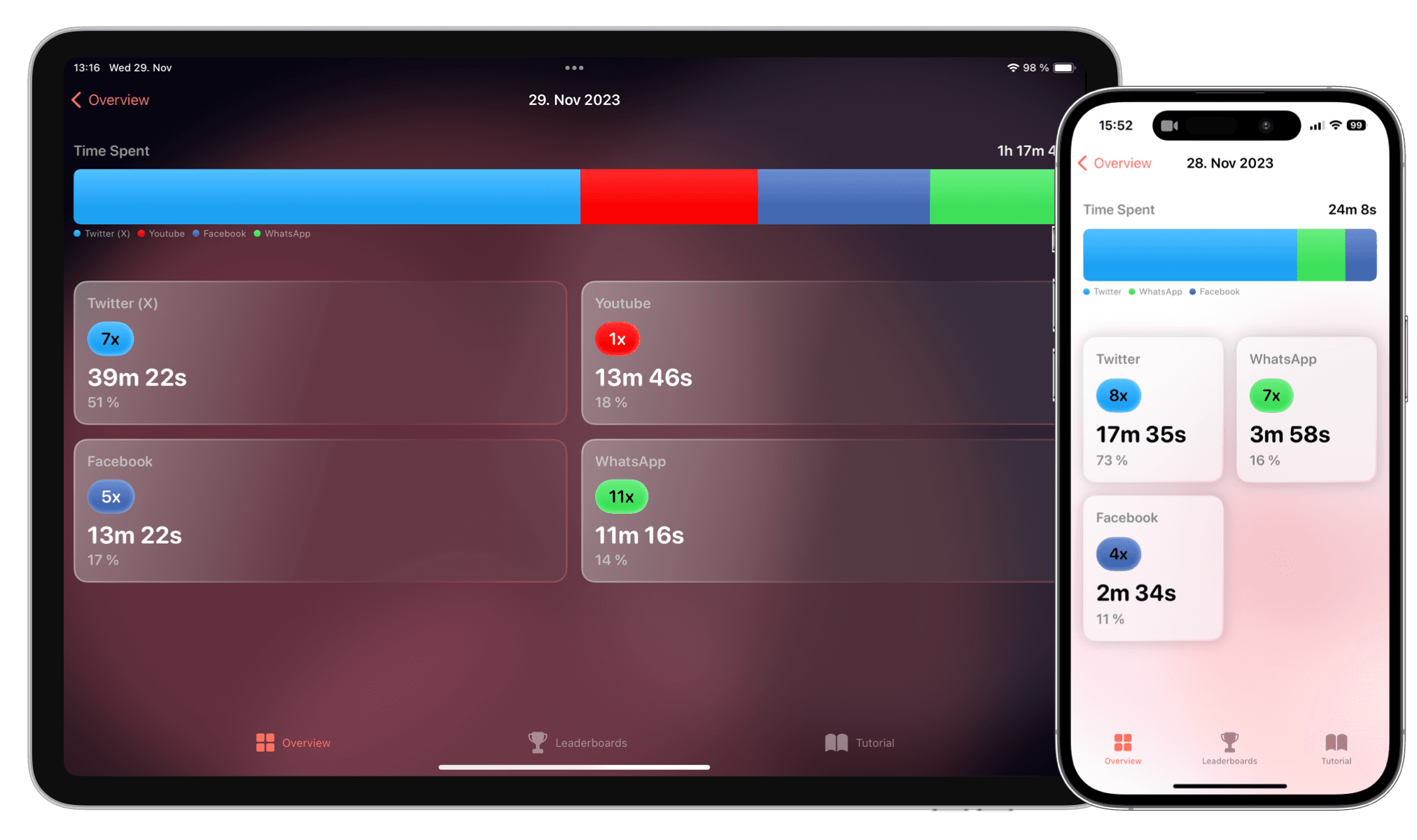 Digital Wellbeing
Developing healthy app usage habits promotes better overall well-being by reducing stress, anxiety, and the feeling of being constantly connected.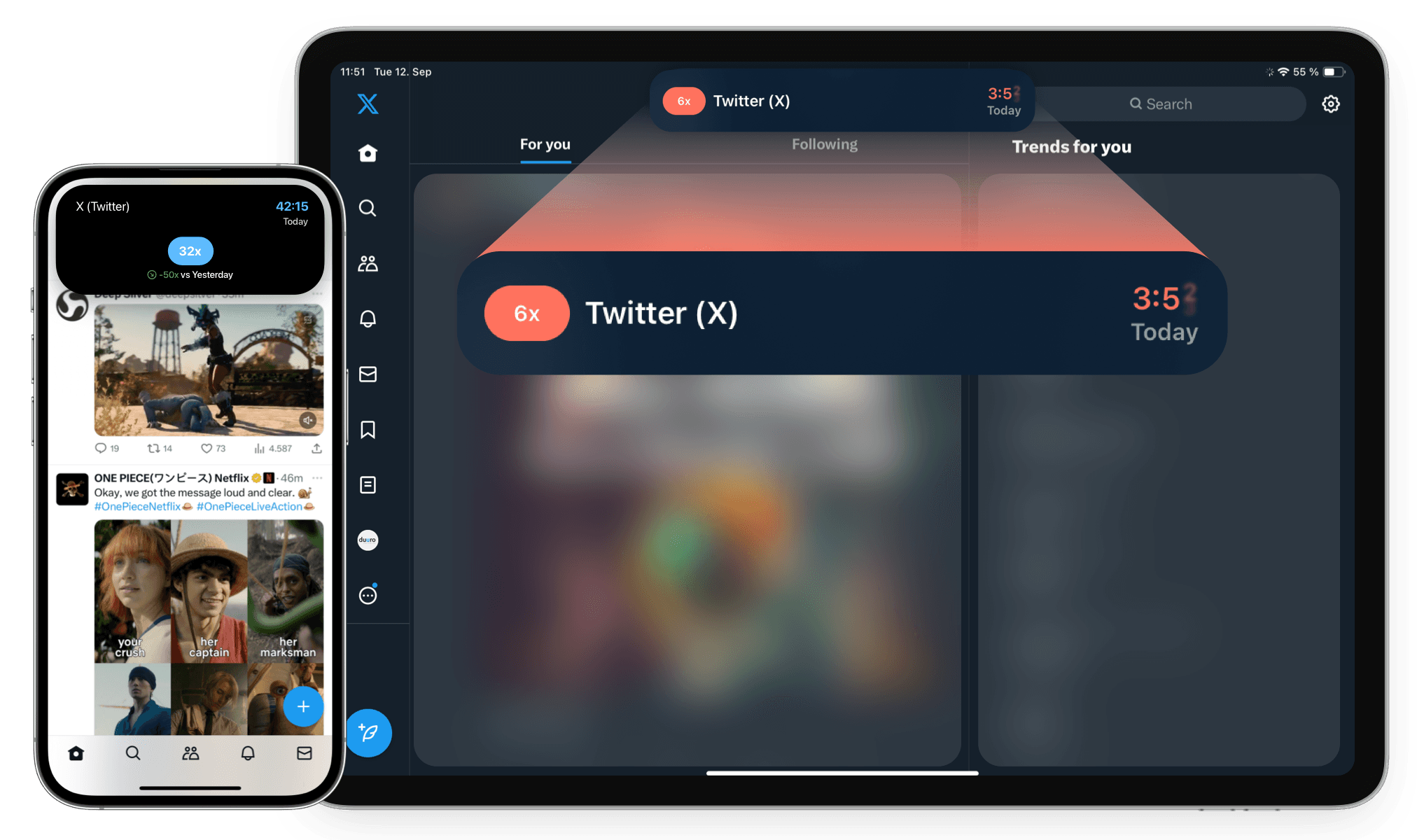 Simple. Secure. Customizable.
Track as many apps as you want and personalize the look of the app.
Actually Benefitial

Realtime Screen Time is perfect for keeping track of how much you are using your apps and games.

Private & Secure

Realtime Screen Time does not require any registration or login. Your information is securely stored on your private iCloud.

Personalizable

Realtime Screen Time lets you personalize the look of the Dynamic Island and Live Activity widgets plus custom app icons.
Screen Time Realtime has an interesting origin.
It is a really cool story.
Download Realtime Screen Time
Realtime Screen Time is an Apple-exclusive app available on iPhone and iPad.